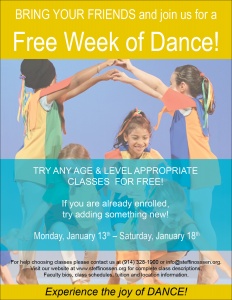 Steffi Nossen School of Dance invites students to come grow with us this spring! Join us during our Free Week of Dance Open House January 13th – 18th when every class has an open door for students to experiment with a new technique or rediscover an old favorite. Try unlimited age and level appropriate classes. Now that the holiday activities are over, try dance.
Families can find a dance style for every child with our fun filled class offerings in ballet, modern, jazz, tap, hip hop, and adaptive dance. Students have the opportunity to learn a wide range of dance forms that encourage dancer's creativity and self-expression. We have classes for tots through teens so come explore the possibilities with us!
For students looking for more intensive training we offer a pre-professional program for grades 4-12, which focuses on technical and performance advancement. Our curriculum fosters technical growth and exploration through dance. Our esteemed faculty fosters the joy of dance, training all dancers with equal encouragement and enthusiasm.
View Schedule