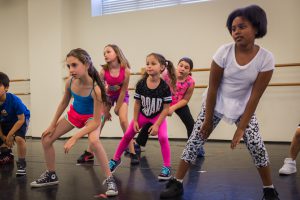 August 19th- 23rd
Monday – Friday | 9:00am-3:00pm
Rising Grades 1st – 5th
Tuition: $450.00
Does your child love watching Kidz Bop Music Videos and dancing along or is hooked with playing video game sensation, Fortnite, and reenacts the characters dance moves upon mission success? Then they will have a blast in our Hip Hop Camp! This fun and engaging Hip-Hop Camp is geared for rising 1st through 5th graders who are interested in learning more about basic Hip-Hop styles like Popping & Locking, B-boy, Break Dancing, Uprock, and more while gaining a better understanding of the history of Hip-Hop Music & Dance.
Join us this summer for a one week camp offering the ultimate Hip Hop experience for your dancing Hip-Hop Star!.
Families may take advantage of Extended Care available through the Music Conservatory for an additional $130/week.