Featuring must-see dance films and discussions with the artists from our virtual event An Evening of Dance
Did you miss our Fall event? Now there's a second chance to view this curated series of culturally relevant works! Click the link below to view Episode 1 of our Dance Film Series on Youtube:
Episode 1: This Moment – Stefanie Batten-Bland
Coming up next: Central Park Field #4 – Alison Cook-Beatty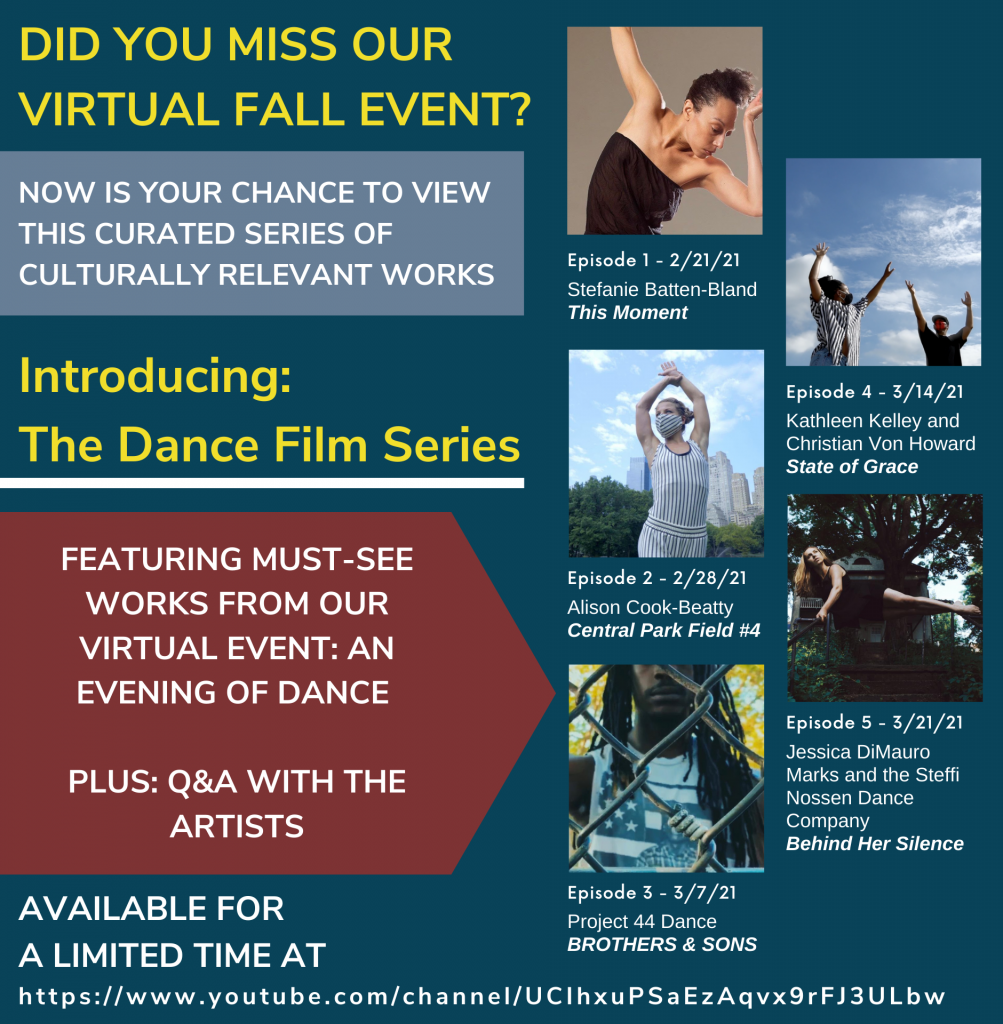 Meet the Artists
Gierre Godley – Project 44 Dance
Presenting: BROTHERS & SONS (exerpt)
"I wanted to share a short film that I created with some very talented collaborators. With all of the protest & unrest happening, I wanted to bring together 8 black men to talk, process, & share. From our conversations, BROTHERS & SONS was birthed." Gierre Godley
Stefanie Batten Bland – Company SBB
Presenting: This Moment
The WPA film is a work in progress of a final film that is under development for Baryshnikov Arts Center online fall commission series. Kolonial is a long time collaboration between Stefanie and Pittsburgh Artist Conrad Quesen. Exploring isolation, touch and the structures put in place to keep us from one another the final product Kolonial will premiere on BAC 's platform in December 2020. "This Moment" is part of ongoing research between Stefanie Batten Bland and installation artist Conrad Quesen and allows for a physical response to questions of performance during Covid-19, and this moment of racial equity.
Collaborators: Yeman Brown, Jennifer Payán, Conrad Quesen, Anthony Quesen, Grant Cutler
Kathleen Kelley and Christian von Howard – Proteo Media + Performance, VON HOWARD PROJECT
Presenting: State of Grace
In State of Grace, the desire to move together transcends the limitations of social distancing as two dancers find each other and uplift each other for a moment in time. State of Grace is a collaboration between Proteo Media + Performance and VON HOWARD PROJECT with music by Michael Wall.
Alison Cook Beatty – Alison Cook Beatty Dance
Presenting: Central Park Field #4
Central Park Field #4 was choreographed during the Global Pandemic, practicing 6-foot distance between dancers at all times to the driving music of Philip Glass. The state set up field hospitals in New York City, helping people who had COVID-19. Across the lawn, I saw a "Field of Dreams," empty safe space. Dance heals the human spirit, and in these times, the Arts are more necessary than ever. The driving music of Philip Glass, the architecture of the diamond itself, inspired Artistic Director to choreograph "Central Park Field #4."
Jessica DiMauro Marks – DiMauro Dance
Steffi Nossen Dance Company
Presenting: Behind Her Silence (premier)
The work delves into the world of woman; the experience of being a young woman. Through phrase work and natural landscape we explore the questions: What gives a woman power? What threatens her livelihood? What makes a woman connect to her wild nature? How can we physically express contrasting attributes of aggression and sensitivity?