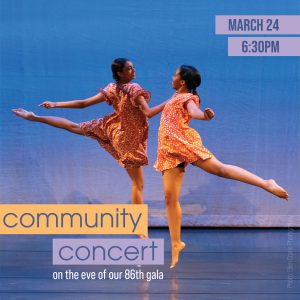 This year is Steffi Nossen School of Dance's 86th Anniversary and we can't think of a better way of celebrating this great achievement than by honoring our fabulous faculty and students. We pride ourselves in the legacy, lineage and longevity of the school, curriculum and community.
The School focuses on the continuation of the legacy of our founder, her curriculum and passion for dance education, and the lineage and history of our school over the past 86 years. The heart and longevity of our mission lies within our faculty and students from the past, present and future that have danced and will dance their way through our doors.
The  Meredith Weddle Community Concert is a tradition since the founding of the Steffi Nossen School of Dance, and an important part of the Steffi Nossen Mission and Outreach Program allowing children and adults the opportunity to attend a live dance performance and be part of an exciting evening of dance and artistic expression. Our audiences include parents and family members of the performers as well as community groups and organizations that are extremely appreciative of this inclusive event.
Come to a great evening of dance with performances by our pre-professional dancers in our Master Class and Steffi Nossen Dance Company.
Community Concert Tickets