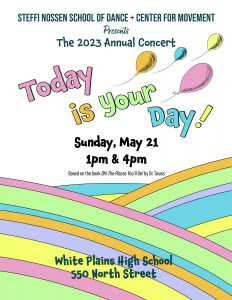 Today Is Your Day!
Our Annual Concert is the culmination of a year of technical and artistic growth in our Core Program, Technique Classes, Master Class Program and Company. Original theme and choreography is used to enhance the dancers experience while keeping the audience entertained and engaged in this unique and beautiful performance. The craft of storytelling through dance and music is highlighted by our talented dancers, musicians, costumes designers, lighting designers and stage managers.
Sunday, May 21st
1PM Show & 4PM Show
White Plains High School
Please buy your tickets ASAP.
Tickets sales will close on Saturday, May 20tht at 6pm.
There will be NO tickets sold at the door.
1pm Annual Concert Information Packet
4pm Annual Concert Information Packet
All Technique, Master Class & Company Classes Information Packet
All Tap & Hip Hop Classes