Join old friends and new at a wonderful afternoon of dance to benefit the Steffi Nossen Dance Foundation
presented by the

New York City Center
131 West 55th Street, between 6th and 7th Avenues
Sunday, December 9th, 2018 at 3:00pm
Attention all Master Class I and II Dancers
Don't miss this important opportunity to take a MASTER CLASS WITH A MASTER HORTON TEACHER @ ALVIN AILEY STUDIOS,
405 West 55th Street, New York, NY
Sunday, Dec 9th, 2018
11:30-1:00pm
$40 per dancer
Program
Ailey 60 Video Tribute
In celebration of the 60th Anniversary of Alvin Ailey American Dance Theater, this multimedia piece will be presented at the beginning of performances during the Company's 2018 New York City Center season, in celebration of the continual gift of the late Alvin Ailey's presence in our hearts, minds, and stages.
The Golden Section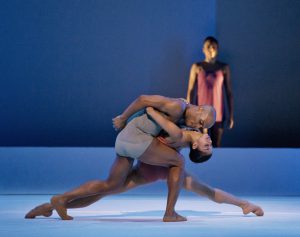 Tony Award winner Tharp's exuberant ballet is full of breathtaking leaps and finely-honed partnering. Set to a new wave rock score by David Byrne, it offers "dancing of astonishing beauty and power" (The New Yorker).  "
Ella
Originally created as a solo, this high-energy comical dance was reinvented as a duet by the Ailey company for its December 2016 opening night gala benefit, "An Evening of Ailey and Jazz" – in anticipation of the legendary singer Ella Fitzgerald's centennial in April 2017.
Kairos
The title for this contemporary ballet by British powerhouse Wayne McGregor takes its name from the ancient Greek word "kairos," which denotes the most opportune time to take action; its other meaning is weather. The ballet is played out to Vivaldi's The Four Seasons, re-imagined by experimental composer Max Richter, and against an imaginative set by Idris Khan. Kairos uses walls to create a starkly dramatic onstage world.
Revelations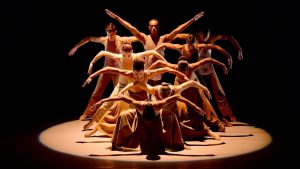 Using African-American spirituals, song-sermons, gospel songs and holy blues, Alvin Ailey's Revelations fervently explores the places of deepest grief and holiest joy in the soul. Ailey said that one of America's richest treasures was the African-American cultural heritage —"sometimes sorrowful, sometimes jubilant, but always hopeful." Since its premiere in 1960, the ballet has been performed continuously around the globe, transcending barriers of faith and nationality, and appealing to universal emotions, making it the most widely-seen modern dance work in the world.